Opportunities were once scarce for the Afghan Community Center (ACC), which serves the Afghan refugee community in Kuala Lumpur, Malaysia.  But through their recent partnership with URBAN REFUGEES, that is beginning to change.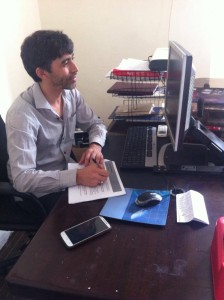 Jessica Leber, staff editor and writer for Fast Company—a print and online magazine focusing on innovation and creative thought leaders who are shaping the future of business—interviewed Mahdi, one of the ACC's founders and leaders.
The ACC was created and managed by Afghan refugees themselves to support fellow refugees in their own community, and this interview with Jennifer is a powerful opportunity for the group to amplify the visibility of refugees like themselves, largely forgotten within the humanitarian system. Mohammad Mahdi, or simply "Mahdi" as he is known among colleagues, explained described the difficult living conditions for Afghan refugees, and how the support of URBAN REFUGEES is changing their daily life for the better.  He also shared his own story, and how the trials of his life led him his role in the ACC.
Mahdi left Afghanistan with his family as a young boy, when remaining at home became unsafe. He lived in Iran as refugee for 20 years before deciding to immigrate to Malaysia, where he hoped to build a better life and experience less discrimination because of his refugee status. "In Kuala Lumpur, conditions are not ideal but not bad," he said. "We are thankful to the Malaysian government because we live safely."
Members of Malaysia's own Afghan refugee community founded the ACC to make a meaningful difference for those who face these daily challenges. Mahdi remembered the creation of ACC in 2014. Before the group came together, the community had no place for meeting, organizing, and supporting one another.
But today, the ACC itself faces many challenges.  The most daunting obstacle is funding their budget.  "We are not professional in management, advertising," said Mahdi.  Adding that it was for this reason—a lack of formal management training—that  URBAN REFUGEES is on the ground providing mentorship to the ACC.  "They give us the key of management, improve our abilities and helps us to propose more services," he said.
These courses include offerings such as English courses, sports courses, health screening, information dissemination, and more for the community.  Language courses are of utmost importance.  "The first need is learning English because we need it daily to find a job, to get a house," says Mahdi. The organization also struggles with staff and funding: "All of members are volunteers," he said. "We have only one support is Nahel a Malay business man."
Sonia Ben Ali, co-founder and executive director of URBAN REFUGEES explained to Jennifer that this collaboration with the ACC "is the first pilot of the organization which more than 50 refugee-led organizations applied for."  These other refugee-led CBOs (community-based organizations) are on waiting list now, and URBAN REFUGEES hopes to provide additional support for these organizations and others after the completion of the pilot and as their own capacity grows.  "Refugee  organizations such as the Afghan Community Center play a fundamental role in the support system and should be recognized as much more credible actors," added Sonia.   URBAN REFUGEES also participates in advocacy to promote sustainable solutions to the refugee crisis.
"We are delighted that the program is beginning to bear fruit, that the urban refugees are beginning to have a real attention and we are very grateful to our donors to support us and to make this possible," said Sonia.  As the interview with Jennifer came to a close, Mahdi reinforced ACC's primary goal: to create a system that would be self-sustaining, allowing refugees in the future to find their way without support from groups like his.
The final Fast Company article is here; it is part of a larger series on creating a refugee-friendly world, which you can check out here.